Today in class, we discussed the differences between digitized and born digital objects. As we discussed, what identifies these as born digital creations is that each text takes advantage of the possibilities afforded by digital technology both in their creation and presentation/consumption by readers.
I wanted us to look at the far end of the spectrum when it comes to born digital objects (or electronic texts) so we could see those characteristics unique to digital writing most clearly.
As we viewed each text, we came up with a list of characteristics we observed in these digital compositions, so we could have them as guiding principles for our own digital works.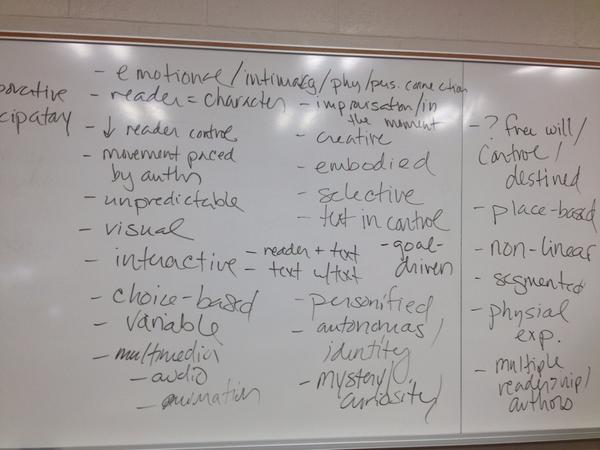 Some categories of electronic writing and the examples we looked at (this list is adapted from "What is Electronic Writing?" by Brian Kim Stefans):
Remember, this is by no means a comprehensive list of digital writing genres, and as you can tell from exploring these pieces, many overlap between several categories. There are just as many more pieces that defy easy categorization.
My hope here is that we can move beyond thinking about writing in terms of genre — beyond just trying to, say, make an animated poem — and instead try to engage with these concepts in our own digital writing, whatever form it may take.